On March 25, 2016
0 Comments
Vesta, or VestaCP, is an open-source web control panel that is considered to be a great alternative to cPanel. Not only does its security and frequent updates match in quality with that of cPanel, it's also completely free.
Since most website owners are only familiar with cPanel, making that switch to Vesta might raise doubts despite its cost-saving benefit.
To familiarize our users with the intuitive interface of Vesta, we've developed a step-by-step process of how to install Vesta and how use it to host your website(s). It's designed to keep as simple as possible so even the most average user will be able to use Vesta after reading this through.
In this example, we've used a Virtual Private Server (VPS), but it will work just as good on our dedicated servers.
1. Install SSH Client
In your new VPS information email, you'll find your SSH access information. There you'll find your Main IP, your login, which is always root, and your password. You'll need this information to access your VPS via SSH.
The next step is to get your yourself a SSH client. We recommend using Putty as it is simplistic and does the job well. You can download it by clicking here. Run the installation and open Putty.
2. Login to Putty
Now that Putty is running, you'll find a section called 'Host Name (or IP address)'. Go back to your email, and copy your main IP. Put it in the blank section after 'Host Name (or IP address)' and click Open.
A black screen will open. Type in your username, which is root.
Wait a few moments, then type your password. Note that the program will not respond in any way, but rest assured, just keep typing the password and then hit enter after you've finished.
You should see this if you have successfully logged in:
Now that you're logged in, type this command: curl -O http://vestacp.com/pub/vst-install.sh and hit enter. If you are using Ubuntu or Debian, you might need to first use the following command: apt-get install curl.
Then type the following command: sudo bash vst-install.sh. Hit enter again.
If you've done everything correctly, you should see the following screen: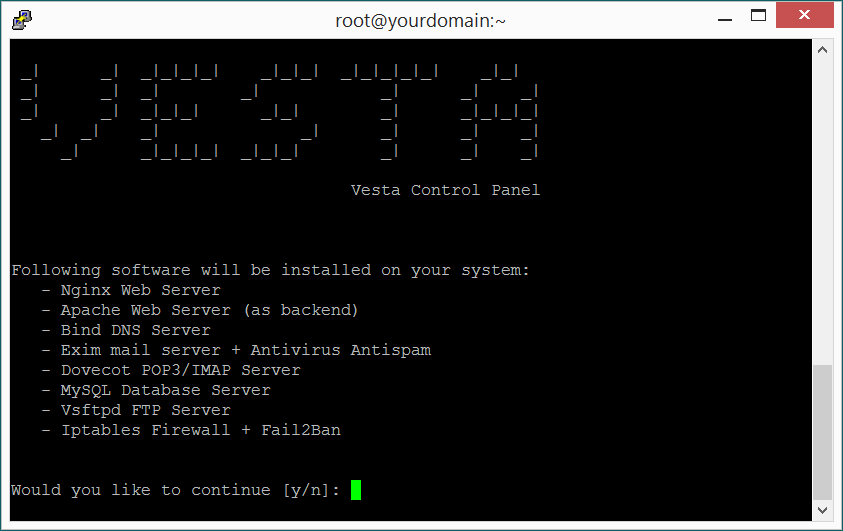 It will ask if you need any of the software, type 'y', hit Enter, and put your email address and hostname. Make sure you write your email address correctly.
It will continue installing for approximately 5 minutes. Once completed, you should get a screen with a link with your IP, username and password: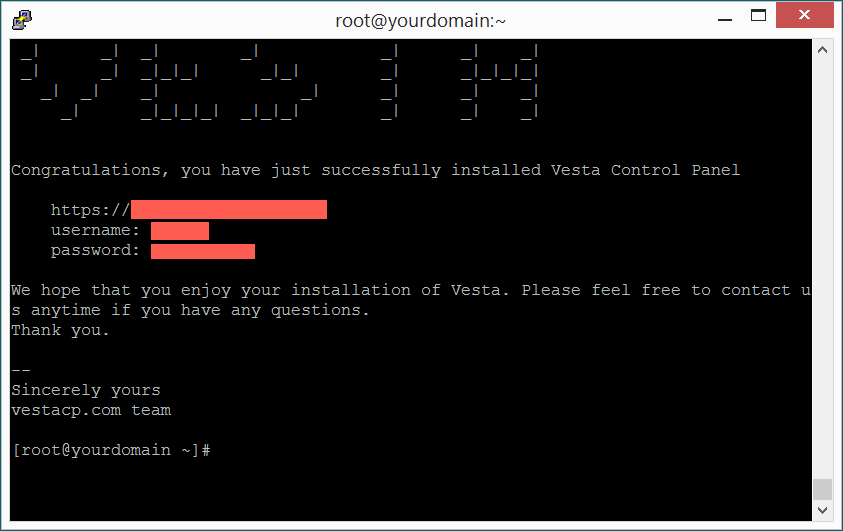 Copy all this information somewhere safe. Put the IP link in your browser and login.
3. Create a new user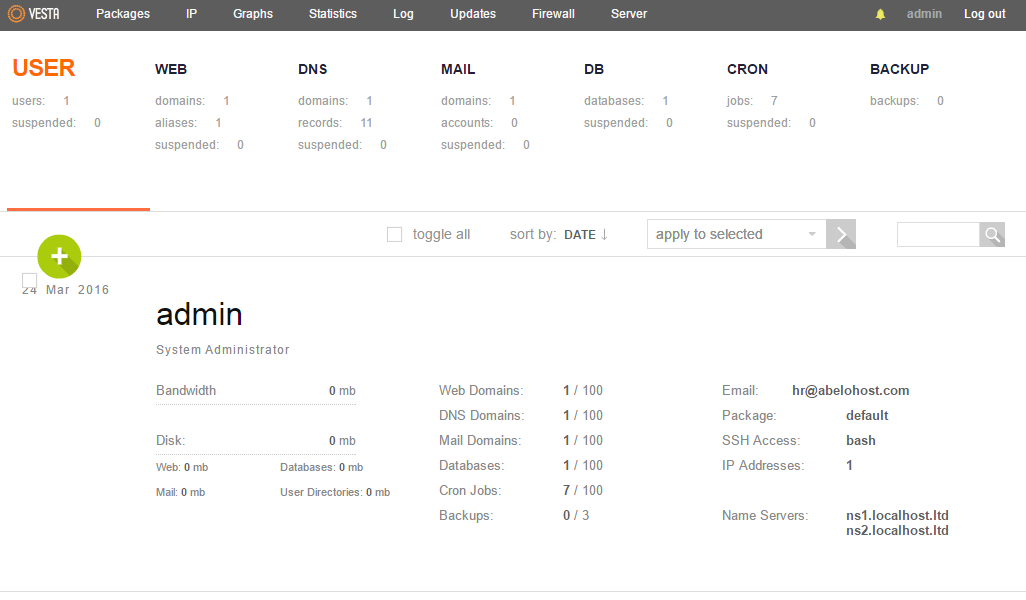 You should see this interface. For now, focus only on the middle bar where it says USER, WEB, DNS, etc.
In the user section, you see that there is already a user created by the name of Admin. That's standard and we'll leave it like that.
Click on Web, and you'll find your domain. Hover over it and delete it in the right hand section. Now click on DB. That is your database. Go ahead and delete it as well.
Now you'd want to create a new user because the username and password of that new user is identical to your FTP details.
Click on User, and click the + sign. Fill out the section and make sure to save the username and password.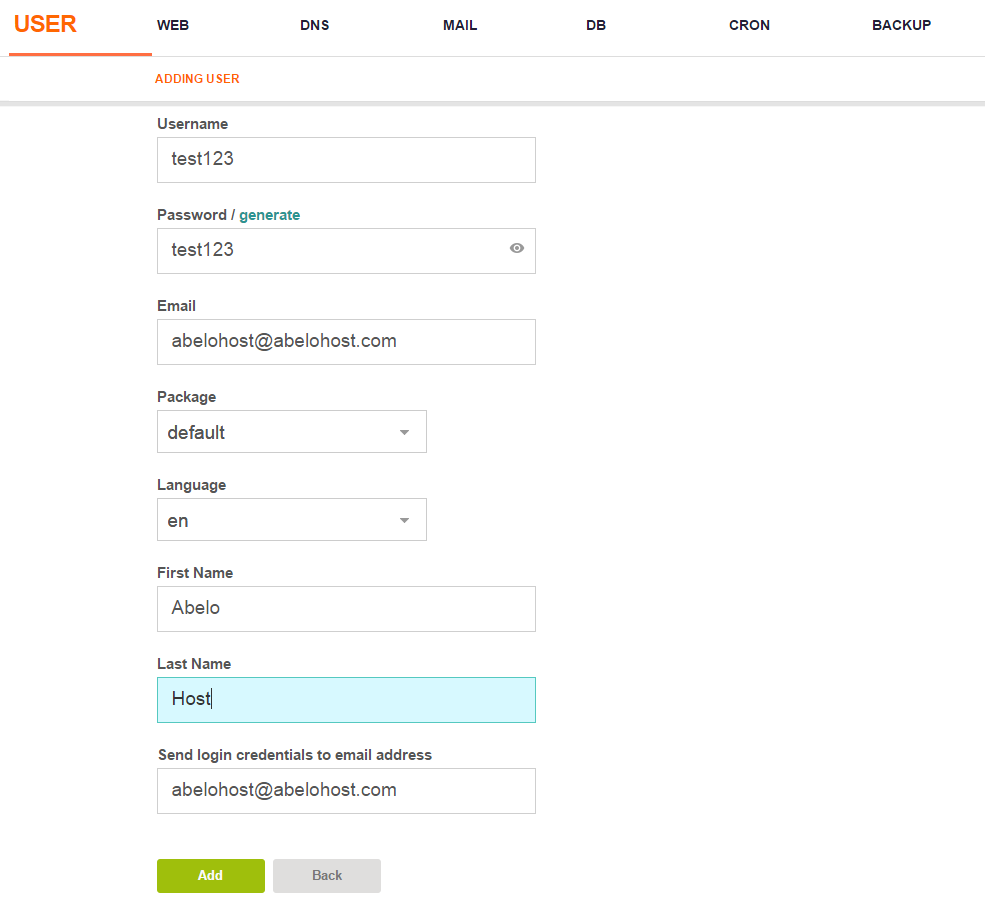 As you can see in the image above, I've made a new user 'test123' with password 'test123'. Thus my FTP details will thus be:
IP: Main IP you can find in your new VPS information email.
Username: test123
Password: test123
Now you can see that it is asking whether or not you'd like to login as the new user. Click on 'login as [your chosen username]'.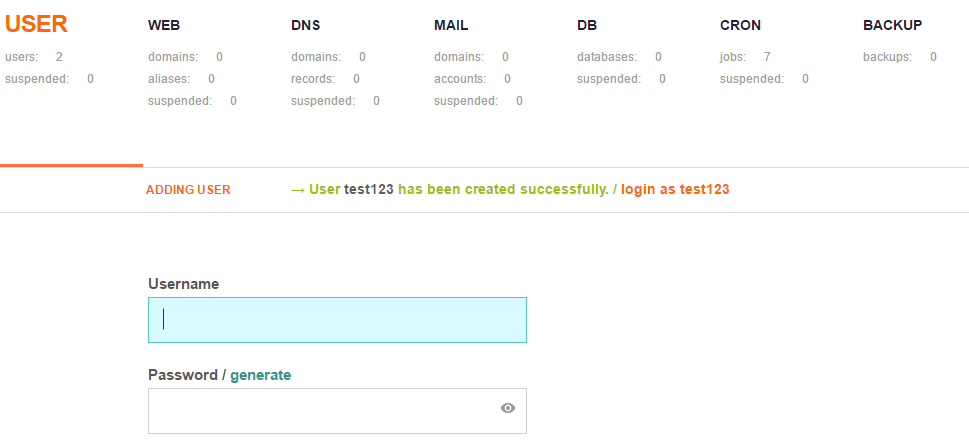 If you log out of Vesta, you can login back with the new user details and have access to all the websites that you've created within that user account.
Note that you can create as many users as you'd like when you are logged in as admin. This gives you the ability to create a new user for every domain that you have.
4. Add a new domain and database
Once you're logged in as your new user, go over to the WEB section and click on the green + sign to add a new website. Once you've done that, head over to the DB section and add a new database. Make sure to save those details.
5. Add Cloudflare nameservers
For nameservers, we use Cloudflare.com exclusively. It's free and adds a layer of privacy to your website as well. To read about its benefits and for a more detailed tutorial of how to use setup Cloudflare's free nameservers, click here.
Create a new account if you don't have one already and login.
First, add your domain. Once that is completed, you will come to the DNS records section. This is perhaps the hardest part in the tutorial. You'll need to add a A record and a CNAME record. Fill it out as follows:
A — Name: @ — IPv4 address: the IP address in your new VPS information email.
CNAME — Name: www – Domain name: Your chosen domain name.
It should look something like this: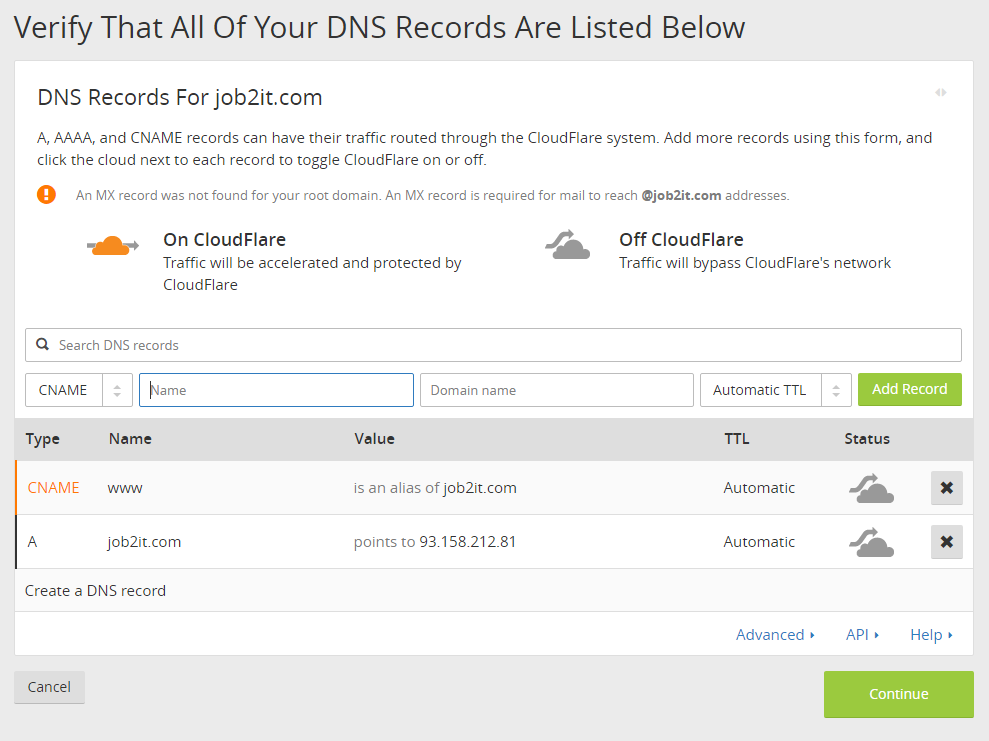 Click Continue, and select the Free Website plan. Click next again and Cloudflare will provide you with the nameservers: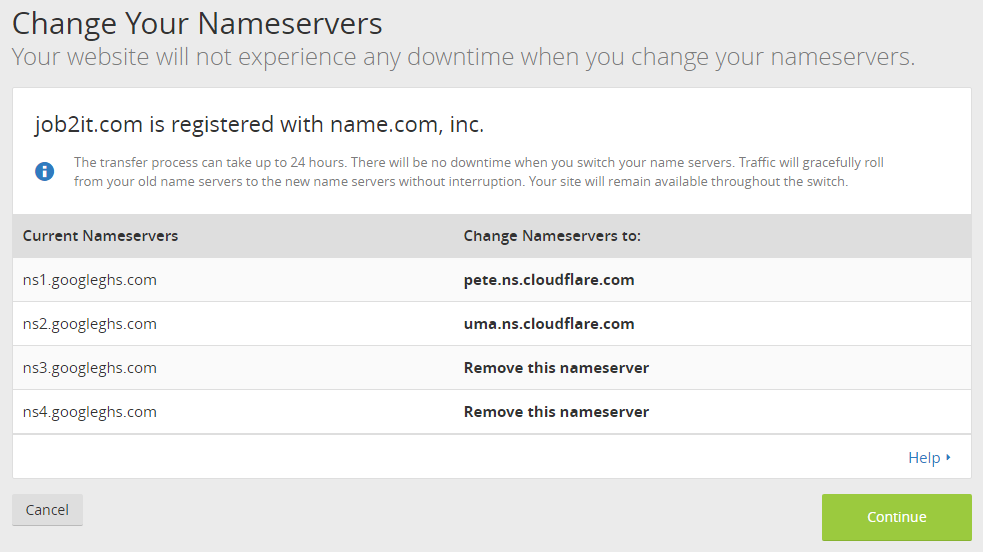 Go to the website where you've registered your domain and change its nameservers. Most domain registrars have a 'Nameservers' section when clicking on a domain. If you don't see it, I advise contacting your domain registrar so that they can help you.
6. Add files to your domain via FTP
Now that you've created the foundation for your website, you can start uploading the necessary files of your website via your newly created FTP account. Login with your user details that you've created earlier:
IP: Main IP you can find in your new VPS information email
Username: Username created in Vesta
Password: Password created in Vesta
If you don't know which FTP client to use, we recommend using FileZilla, which you can download here.
You should see something like this: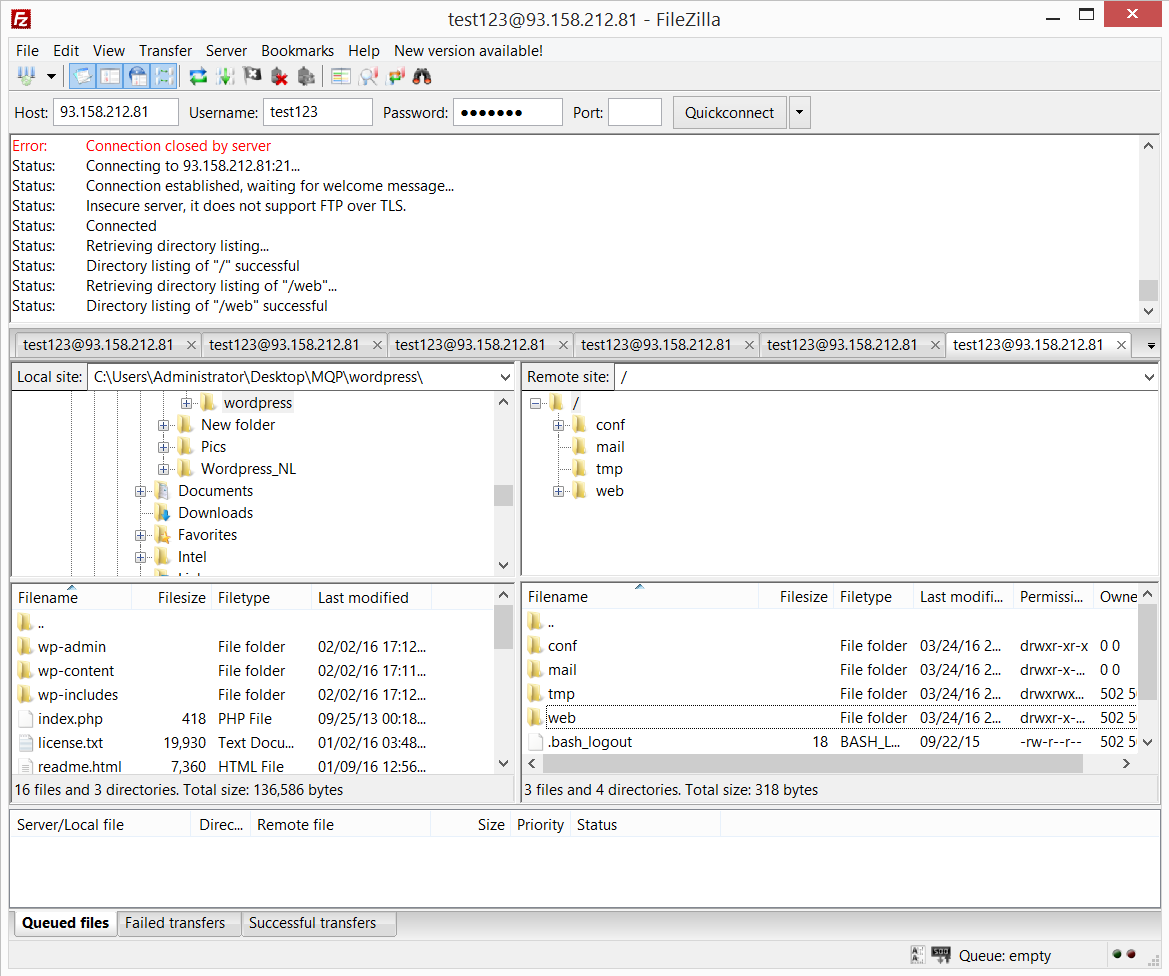 If you click on Web in the lower right window, it will show you a folder with your domain. Open it so and you'll see a list of folders. Click on the public_html and copy all your files to that folder. In this example, we'll be uploading WordPress files. Just drag all your files from your computer from the left window to the VPS to the right window. It's that simple.
Once all the files have completed uploading, you'll have to wait until WordPress installer pops up on your domain. It should look like this: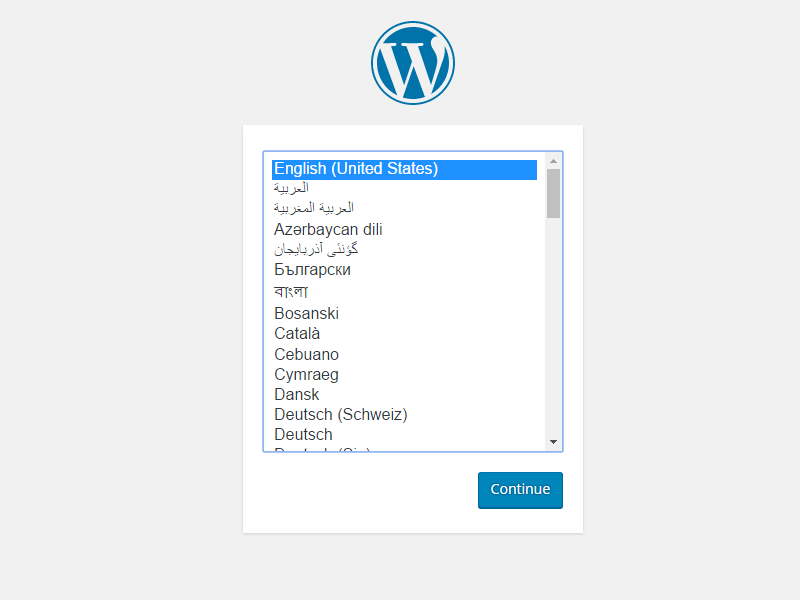 Select your preferred language, and head over to the Database section. It should look like this: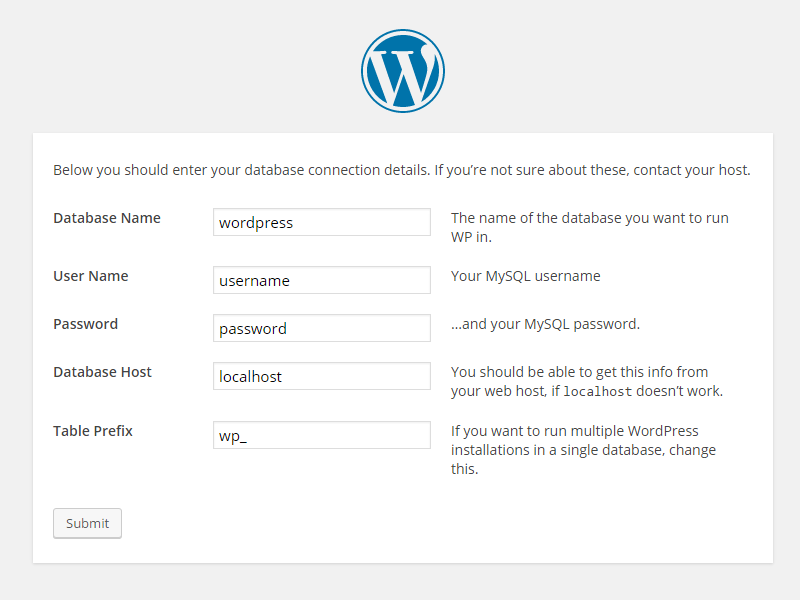 You only have to fill out the Database Name, User Name and Password. Go to the DB section of Vesta where you've previously created your database and copy the details. Click on Submit, and if you've put the new correct details, it should say:
"All right, sparky! You've made it through this part of the installation. WordPress can now communicate with your database. If you are ready, time now to…"
Click on Run Install and fill out the details. Congratulations! You have a successfully setup WordPress via VestaCP on your VPS.
7. Repeat the process for all your websites
Now for every website that you want to host on your VPS, we recommend creating a new user in Vesta. Separating your FTP accounts for each website can protect you from potential hacks and viruses entering all your files. Make sure to login as that user first before you create a new Web and Database.