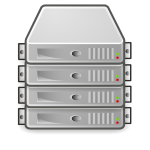 Server Colocation
Colocate your server in one of our chosen datacenters.
Colocation Options
Rack Units
Power
Location
Bandwidth
Monthly Price
Availability
1U
0,5 Ampère (230V)
Dronten, Netherlands
100mbps
€55
  Configure 
Server Colocation Benefits
Wide selection of available networks, which are operational through multiple (fiber) carriers. It offers the opportunity to choose the preferred mix of networks.
The datacenter has a well-trained, friendly and trustworthy staff that can assist you with anything you need.
The electrical infrastructure (2N and N+1) is built in compliance with the NEN 1010 standard.
Each private colocation comes with redundant uplinks and free data traffic.
Large power consumption per rack with up to4x32Amp per full rack.
All the monitoring and maintenance work of the datacenter is carried out by a team of certified professionals. The size of the team allows for high quality support and a reliable performance of the center.
NL-IX Port available.
Remote hands service offers 24/7 technical support + 24/7 independent client access.
The air conditioners, the fire extinguishers, the generator, the ups, and distributor all have maintenance contracts of their own. These contracts are provided by the original suppliers and can be read in the datacenter.
The datacenter is ISO 27001 & 9001 certified.
Shipping Address
Abelohost B.V.
Beatrixstraat 30, 6981GN, Doesburg
Dronten, The Netherlands
Phone: +31 (0) 629916679
BTW: NL852487009B01
KvK: 57218153
ABN AMRO: 53.13.54.911
Email: hr@abelohost.com
Website: http://abelohost.com
F.A.Q.
Setup Duration
Once your server has arrived at our office, the maximum waiting period is 2 days until you'll have full access to your online network. This waiting period may vary if you are sending more than 4 servers to us.
Setup Costs
There are no setup costs. The monthly costs includes physically installing the server. In addition, all colocation clients can benefit from free remote hands carried out by our professional staff.