Nobody likes a slow-loading website. Not only does it severely worsen user experience, it also affects your ranking positions in search engines. And if you understand a thing or two about making money online, you will know that SEO is crucial to your online success. Not surprisingly, the loading speed is part of Google's ranking algorithm.
Aside from that, studies have shown that visitors simply abandon your website or refrain from buying your online products just because your website is loading a few seconds too slow. So no matter how great your content is, or how many people know and value your work, if your website runs slow, you can expect it to never lift off as you have always wished it did.
The first step is to measure at which speed your website opens. Head over to Gmetrix and type in your domain name. You should get your result within a minute under Page Load Time.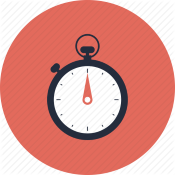 So what is the ideal loading time for a website?
Google says that 2 seconds is a loading time that everyone should strive for, but your rankings won't worsen if your website loads within 4 seconds. It does, however, affect how often your website gets crawled. Which is still important, but not as essential as your rankings.
Only if your website is loading more than 10 seconds, will it affect your ranking, Google says.
If your website loads around 10 seconds or worse, I advise you to read this article like it holds the secret to saving your life. If you are in 4-second range, this article will have a few tips that you may have overlooked. Without further ado…
1st reason – Your images aren't optimized
This is the most common reason among beginners. On the upside, it is also the fastest way to speed up your website.
You resize your images 
If you are uploading your images to your FTP first and then re-sizing them later, you're creating unnecessary requests, which means longer loading time processing that. If you're going to display your image in, let's say, 200px by 200px wide, don't upload a 400px by 400px and resize it later. No, you have to resize it in Photoshop first (free alternative is paint.net) and already upload a 200px by 200px.
Why? Some of you might ask. 
Well because if you upload a larger image, and then resize it, someone who enters your website will first have to load the full image, and then the resize code. All these unnecessary operations delay the loading of your website.
A client of ours whose website was loading 14 seconds on average because his slider was a whopping 5500 pixels wide.
regardless, your visitor will still have to load
You save your images in the wrong format
All your images should be saved in JPEG. If you're using something else, you can use Photoshop (or paint.net) to convert it to JPEG by selecting the extension while saving. This severely reduce the size of your images. Only us GIFs when the image is very small (10×10 pixels) or when it only uses 3 or fewer colors.
JPEG is your best option.

PNG is also good, though older browsers may not fully support it.

GIFs should only be used for small or simple graphics (less than 10×10 pixels, or a color palette of 3 or fewer colors) and for animated images.
Your images may have unnecessary texts attached to them 
Do your images have ALT titles, or ALT descriptions that may as well not be there.