In this brief tutorial, we'll explain how you can set up free nameservers for your website. Most hosting providers provide free nameservers and most website owners aren't aware of the difference that their nameservers can bring. Other than routing your traffic, the nameservers usually have a variety of different options depending on the hosting provider.
However, the best free nameserver provider is undoubtedly Cloudflare. They are becoming increasingly popular thanks to their high-quality service that is remarkably still free of charge. We highly recommend that you use their nameservers, regardless of your preferred hosting company.
Benefits of Cloudflare Nameservers
Cloudflare automatically filters bot traffic and other malicious requests
If your website is offline for some reason, Cloudflare will display a pre-copied version of your website, allowing your visitors to view the site.
It adds an additional layer of privacy as it effectively hides where you are hosted.
Thanks to their 76 data centers around the world, your visitors will experience the fastest loading times, regardless of their location. Cloudflare boasts that your website will load twice as fast with their nameservers.
On top of everything, Cloudflare provides free DDoS protection, a service which usually costs upwards of $100.
How to use Cloudflare's free nameservers
Now that we have covered their benefits, let's focus on how to actually set up the free nameservers from Cloudflare.
1. Create your account on Cloudflare.com and login
First, you will need to create your free account on Cloudflare by following this link. Simply enter an email address and password that only you can access. This is very important because you risk going offline if someone hacks into your Cloudflare account.
Log into your new account.
2. Add your website
Once you register and log in, you'll need to add your website. Enter your domain name in the specified field.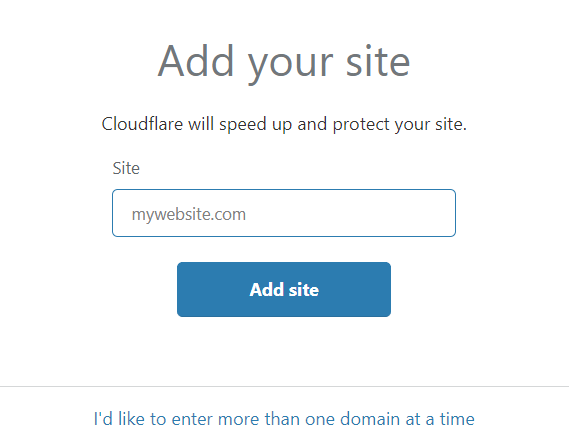 3. Select the free plan
After you enter your website, you will be asked to select a plan. Choose the Free plan and press Confirm Plan.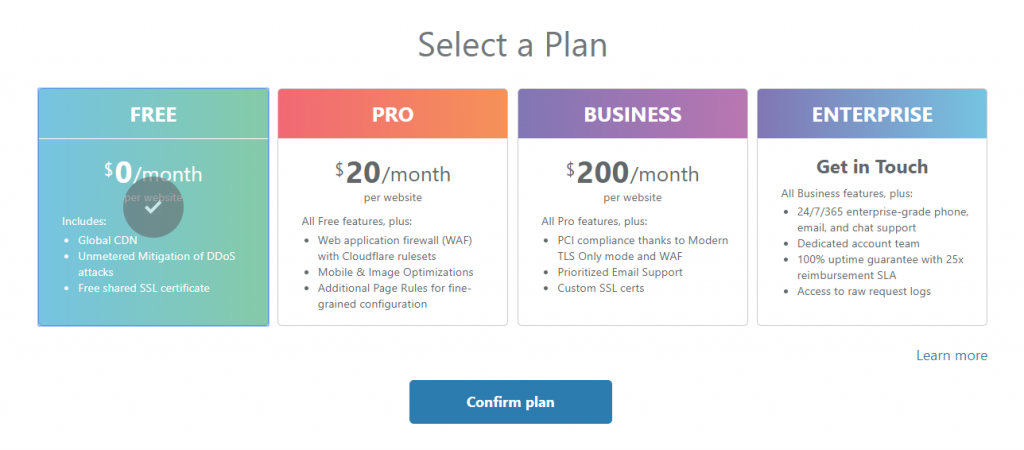 4. Add your DNS records
Generally speaking, this is the hardest step, but we will guide you through it. If you follow the instructions below, you will have no problem adding your DNS records.
For the free nameservers to work, you will need to enter 2 DNS records: a CNAME and an A record. Fill the records out with the following information:
A — Name: @ — IPv4 address: Your IP address, which will be sent to you via email, together with your hosting login details. If you have trouble finding your IP address, contact your hosting provider.
CNAME — Name: www – Domain name: Your website's domain name.
When you enter the information, press Continue.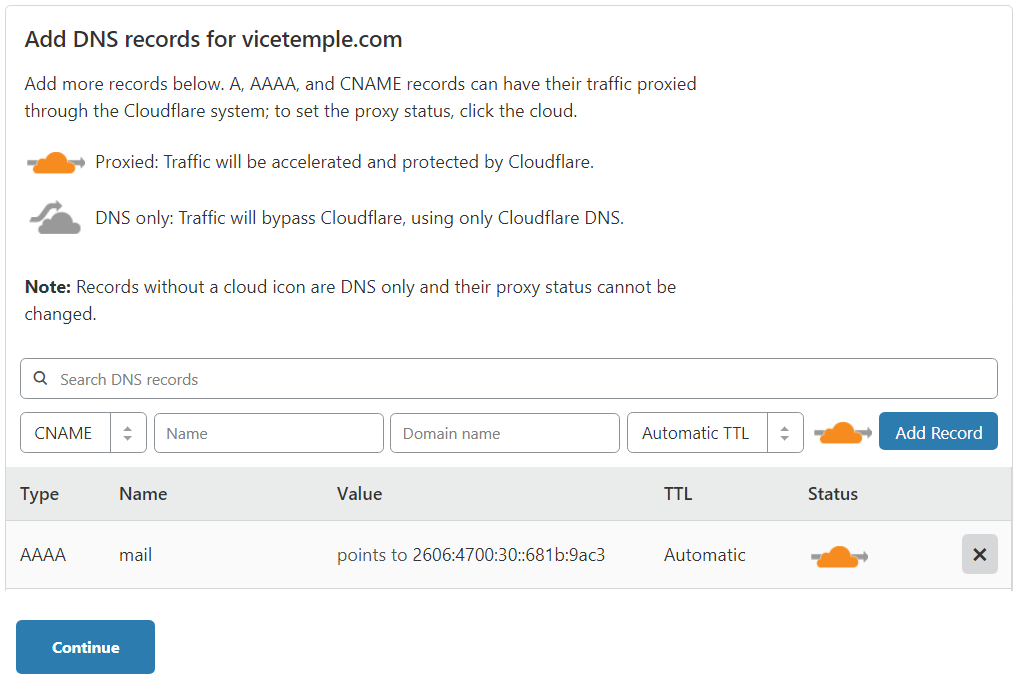 5. Update your nameservers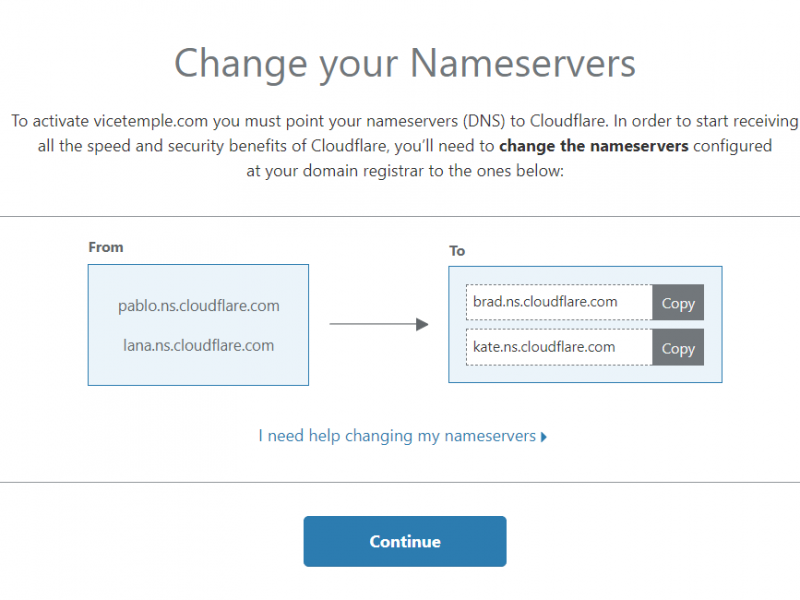 Now, Cloudflare will provide you with the free nameservers, which will be shown in bold. You will need to change your nameservers by going to the website where you registered your domain. Most domain registrars have a Nameservers section that will appear when you click on your domain. Simply replace the current nameservers with the free nameservers from Cloudflare.
Once you've updated your nameservers, you may need to wait up to 24 hours. In the meantime, you can check whether your nameservers were updated by entering your website on Who.is.
When Who.is returns the Cloudflare nameservers for your website, you will know that you have successfully changed your nameservers.